This course emphasizes the promotion of creative and imaginative abilities stemming from the basic abilities acquired from various fields of study, and cultivating theoretical and practical creative abilities for art and culture. Students with knowledge about digital content design and creative design can expand their creative potential. To support this, the curriculum conducts research from a comprehensive approach and contributes to fields of creative design by playing a leading role in design in Japan as well as internationally.
Graduates in this course can expect to find employment in newly created industries, universities, or other related fields. Some examples of potential fields are: information device design, the automotive industry, the digital contents industry, the broadcasting industry, and the fields of arts and culture.
Composition of the course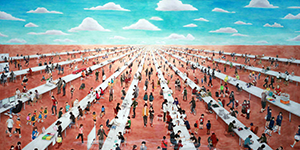 Art Theory and Practice Division
In the Art Theory and Practice Division, we provide students with a deep understanding of art and cultural history, and develop their abilities to use that understanding in contemporary society. Students achieve this through study and research that systematically connects a wide range of fields including mathematical modeling, art, music, theater, language, cultural history, and philosophy.
Digital Content Design Division
In the Digital Content Design Division, students conduct systematic investigations that span the fields of art, science, and engineering, including research in representation theory and technology, and produce video, music and media arts work.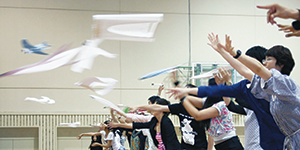 Creative Design Division
In the Creative Design Division, students receive wide-ranging practical training and conduct research in visual and industrial design. Through this, they develop the creative abilities that will enable them to support manufacturing and information environments.